Torrance

High School




Class Of 1980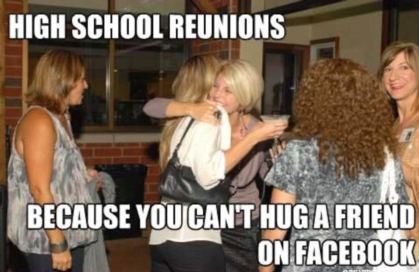 November 2019
Hi Class of 1980 !!! This is post #4 regarding our 40th reunion!!!
Classmates, we need your help!! We have started off with a great response but as we mentioned, we have deposits that are coming due. So IF you KNOW you are coming to the reunion, please send in your money and take advantage of the early payment price. It helps YOU save money and it helps US make our numbers so we can meet our financial obligations.

I can tell you the Reunion Committee is working hard to make this a memorable night for everyone, lots of little details that will add to the special occasion of our 40th Reunion -- you won't want to miss this memory making evening.
Again, a few people have asked about DRESS CODE for the reunion - this is YOUR reunion so come as you would like...DRESS UP and make it a special night, or come casual...it is 100% up to you !! We will have a couple of different photo opportunities available, so perhaps you can use this as your HOLIDAY card photo !!
Here are some of the details:
What:
Our 40th Reunion
Ticket price includes: buffet dinner/desserts, photo opportunities, music and MOST important....Making Memories.
* cash bar
Where:
"The Lounge" at South End Racquet Club. This is a beautiful venue with room for sharing a special evening of dining, music, and most of all, visiting and catching up with old friends and connecting with new ones!
When:
Saturday, August 15, 2020 from 6pm - 11pm
Cost:
Early bird tickets $65.00 per person (from now until January 1, 2020)
January 1st, tickets will be raised to $80.00 per person (January 1 - June 1, 2020)
June 1 - August 1, 2020 tickets will be raised to $90.00 per person with NO tickets sold after August 1st
NO tickets will be sold at the door (head count is due to venue prior to reunion date)
2 ways to pay:
Check payable to: THS Class of 1980 Reunion
Mail to 24325 Crenshaw Blvd. #222, Torrance, CA 90505
OR Venmo: @nieecee
(No tickets will be mailed, you will check in at the venue)
Please share this information with others who might not be on Facebook or who might not be signed up on our class website. We want to have a successful turnout and the best way to get the word out is with your help -- so THANK YOU in advance for spreading the word and for getting your payment in.
If you have any questions, please feel free to email: Denise@dynamicstaffingpartners.com
We are looking forward to a wonderful evening catching up, sharing memories and making new ones.
Your Reunion Committee: Denise (Fulton) Lefebvre, Shelley Taylor, Michele (Eidson) DeYoung, Wendy (Cleveland) Smith, Angie (Rayas) Nakasone, Karla (Craig) Dishon, Paula (Cooke) Selfridge, and Judy DeLaVega
www.TorranceHigh1980.com #1980reunion #cheersto40years #1980revisit #1980reunite #1980relive
____________________________________________________________________________________
MISSING CLASSMATES:
We will continue our quest to find each and every classmate! If you know of someone who has not joined the website please ask them to do so! The website will be the main source of information for future events.
Thanks again, and keep in touch!
Denise, Michele, Wendy, Judy, Angie, Paula, Shelley and Karla
Or, if you have any comments or questions feel free to email us at thsclassof80@aol.com
We're also on Facebook: http://www.facebook.com/home.php?ref=home#/pages/Torrance-High-School-Class-of-1980/106488232400?v=info&viewas=1070371543
---