Torrance

High School




Class Of 1980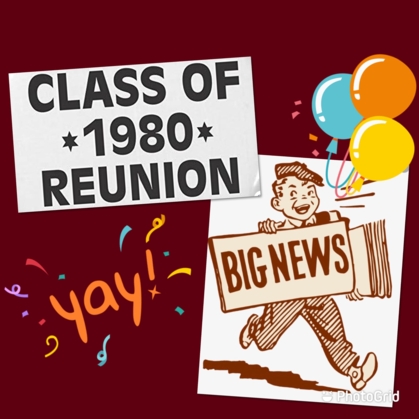 Dear Classmates...

We hope this finds you and your family safe and well !!! These are some crazy and unique times we are facing and that said, we have some news about our 40th Reunion we want to share with you -- The Reunion Committee has had many thoughts regarding the reunion weighing heavily on our minds - wondering WHEN "stay at home" orders will be lifted ? And even if they are lifted by August, would our classmates feel comfortable attending a gathering ? Would classmates feel wearing masks and social distancing should still be practiced ? The Reunion Committee knew we didn't want to cancel the reunion, but rather reschedule it to a time when we can feel more comfortable celebrating in a social gathering situation.

The new date for our 40th Reunion...(now to be called our "40ish Reunion" or "40-1/2 Reunion") is Saturday, March 13, 2021. South End worked with us on a new date. The time and other information will stay the same (details below). Very happy that those who have paid for the reunion have been supportive and encouraging and still able to attend (I have reached out to everyone who has paid either through Venmo, FB Messenger and/or email and have only not heard back from a handful of people. If you did not get the message, I am sorry) and hopefully those of you who could not make the original date can now make it to the party - I think we all agree, it will be good to celebrate and see each other !!


Here are some of the details:
What:
Our 40th Reunion
Ticket price includes: buffet dinner/desserts, photo opportunities, music and MOST important....Making Memories.
* cash bar
Where:
"The Lounge" at South End Racquet Club, 2800 Skypark Drive, Torrance, CA 90505. This is a beautiful venue with room for sharing a special evening of dining, music, and most of all, visiting and catching up with old friends and connecting with new ones!
When:
Saturday, March 13, 2021 from 6pm - 11pm
Cost:
Early bird tickets - $80.00 per person (from now until Jan 1st 2021)
From Jan 1st - March 1s 2021 tickets will be raised to $90.00 per person with NO tickets sold after March 1st
NO tickets will be sold at the door (head count is due to venue prior to reunion date)
2 ways to pay:
Check payable to: THS Class of 1980 Reunion
Mail to 24325 Crenshaw Blvd. #222, Torrance, CA 90505
OR Venmo: @nieecee
(No tickets will be mailed, you will check in at the venue)
Please feel free to contact me with any questions: Denise@dynamicstaffingpartners.com


Stay HAPPY, HEALTHY and HOPEFUL !!!
Your Reunion Committee: Denise (Fulton) Lefebvre, Shelley Taylor, Michele (Eidson) DeYoung, Wendy (Cleveland) Smith, Angie (Rayas) Nakasone, Karla (Craig) Dishon, Paula (Cooke) Selfridge, and Judy DeLaVega
www.TorranceHigh1980.com #1980reunion #cheersto40years #1980revisit #1980reunite #1980relive

__________________________________________________________________________________
Here is a little comething we put together for you to watch, enjoy & reminisce....Don't miss out on being a part of the next video. Come to our 40th Reunion on August 15th !! (see details further down below on this page) #letthegoodtimesroll !
https://www.youtube.com/watch?v=xcFokCYXLM0
____________________________________________________________________________________
MISSING CLASSMATES:
We will continue our quest to find each and every classmate! If you know of someone who has not joined the website please ask them to do so! The website will be the main source of information for future events.
Thanks again, and keep in touch!
Denise, Michele, Wendy, Judy, Angie, Paula, Shelley and Karla
Or, if you have any comments or questions feel free to email us at
Denise@dynamicstaffingpartners.com
We're also on Facebook: Torrance High School Class of 1980
https://www.facebook.com/Torrance-High-School-Class-of-1980-106488232400/
---