In Memory
Joseph Dischner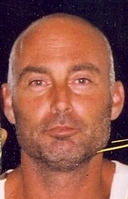 JOSEPH DISCHNER
SEPTEMBER 17, 1962 - NOVEMBER 10, 2014
Joseph Dischner, 52, passed away on November 10, 2014 in Lake Elsinore, California. He was born on September 17, 1962, in Torrance, California, to Don V. and Lila K. Dischner.

Joe was a custom hardwood floor installer.

He is survived by his loving sisters, Lisa (Todd) Pauletti and Tracy (David) Thompson; niece, Jenna (Paul) Napora; nephews, Joey Pauletti and Luke Thompson.

There will be a Celebration of Joe's Life on Saturday, December 6, 2014, 11:00 a.m. at A.M. Gamby Funeral Home, 25001 Narbonne Avenue, Lomita, CA 90717.